Posted on septembre 19, 2015 in Code (divers)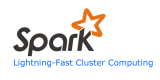 According to Wikipedia Apache Spark is "an open source cluster computing framework". It aims to make it faster and easier to develop large-scale big data applications. You can use Spark as a cluster manager, a big data application framework and even as a machine learning or streaming library!
It works alone but is designed to work with hadoop, Cassandra, MESOS, Amazon S3 and EC2. You get it, the goal of Spark is to interface you as a developer with all the big data stuff that already exists.